Barbara Bordieri-Hoffman
San Diego 's Gidget
Still Surfing at 60..... by Barbara Bordieri-Hoffman

I've been called ,"Gidget," from time-to-time. My boyfriend nicknamed me, "Gidget of San Diego." I started surfing about 1961- 62. I was 15 years old. The real Gidget, Kathy Kohner, also started surfing when she was 15 years old. She surfed from 1956 - 1960. I had the pleasure of meeting her at a lecture at UCSD in 2006. She told me that she was 5' 1." I'm 5,' or at least, I used to be! My love affair with the ocean started in Mission Beach in the early 1950's. My mom and dad brought the whole family to the beach and to Belmont Amusement Park for the day. We rode the waves on black inner tubes and rubber mats.
My older brother, Paul Bordieri, introduced me to surfing. We bought our first surfboard together from a guy who had it in his garage. I don't remember what kind of board it was, only that it was a green longboard, about 9' 8" with redwood and balsawood stringers. It was probably an early G&S. Paul and I shared the board in the water. We'd stand in waist deep water together and push each other off into the white water in Pacific Beach . There were no surf schools.
We didn't have any designer, manufacturer surf clothes such as shirts, shorts, shoes, trunks, accessories, etc. There wasn't much for girls. My first surf trunks were my black gym shorts with the white strip down the side of the leg. After that, I actually made my own surf trunks that were low-cut with a drawstring in front, made of an orange, floral-print material.
In the early 60's at the age of about 16, I was recruited as a member of the prestigious Windansea Surf Club. I was entered into my first contest. I blew it off. I just didn't show up. I was just a kid; kind of on my own; extremely shy. The contest was at La Jolla Shores . I remember that it was cold. I just wore a bikini in those days. We didn't have wetsuits. I didn't want to drown in front of everyone, since there were no leashes. I hid out at my brother's house on Toulon Court in Mission Beach , while the phone went crazy at my parent's house. Calls came in trying to find out where I was and to tell me that I should be at the contest for my heat. I just didn't go back to the club. I was too embarrassed. Looking back, I wish that I would have stayed in the club. If I had been a stronger swimmer, I would have.
In the very early days, I surfed at Crystal Pier in Pacific Beach . I wore a bright yellow, polka dot bikini (yes, polka dot), but I probably wasn't noticed too much, since I rode the soup, and also for the fact that I was so young. I rode the center break at Emerald Street . No one ventured over next to the pier where the really good guys surfed. I very vividly remember Skip Frye surfing there with his fluid, graceful style. As I recall, some of the other guys surfing there were David Nuuhiwa, Barry Kanaiaupuni, and Gary Cooke, the resident local. Gary lived in one of the cottages along the cliff where the green grass and condos are now. He was actually one of the few older guys who talked to me regularly.
I remember, one day, paddling out at Windansea in La Jolla . It was a small day and crowded. Mike Hynson and Skip Frye were out and paddled by me. I remember the legendary, cement statue, "Hot Curl," looking out over us as it stood near the historical, well-known, thatched hut.
In 1961, at Montgomery Junior High School , I was one of the very few girls who surfed. In high school I was the only girl who surfed. I'm the only one who continued surfing. In high school I surfed with the guys. We surfed near Crystal Pier at Diamond Street in Pacific Beach . I only surfed with them because they were there. I was very shy. Some liked me, probably like a sister, most tolerated my presence, some called me hurtful names, and some tried to push me off of my board as they rode along side of me. I kept to myself, most of the time. I was never giggly or talkative in the water. I learned to be tough like one of the guys. Even now, the guys don't cut me any slack in the water. I'm often told that I'm just "one of the guys." That's not always a good thing! I still have to compete for the waves just like them.
In the early days, all of my boards were shaped by my brother, Paul. He agreed to shape them, but he told me that I would have to go to Larry Gordon and ask for Larry's permission first. Each time, Larry and I would sit down at his desk and I would formally ask if it was okay to have a board made. It became a ritual. Larry would always say, "yes." (Who would have known, that years later, I would end up surfing with Larry for many years at Tourmaline Surfing Park .) The cost of my board, then, was $75-$100 for the blank and materials. Paul would shape it for free. He would pay the glasser to glass my board with a case of beer. Now, I ride 8' boards shaped by Bob Mitsven, and I also ride a Ben Aipa epoxy board. It's easier to maneuver and to carry. Glen Horn, who was featured in an article in The Surfer's Journal, also shaped a board for me several years ago. I've surfed with Glen and his wife, Roberta, on many occasions in the Pacific Beach area.
Winters are especially hard for me, since I have to wear so much gear to keep warm. I wear a 4/3 mm wetsuit, 2 thick, long-sleeved rash guards, 6 mm fin socks, 7 mm over-sized booties, and 6 mm gloves. Wearing all of this is very tiring and cumbersome, but it means the difference between surfing and not surfing in the winter. I get teased a lot by everyone for all of the things that I wear.
The best surf-session that I ever had was at Poipu, Kauai in 2002. The surf was a perfect 6-8 feet. I didn't fall once in the week that I surfed. Everything just clicked. The waves were all lefts, which I favor, since I'm a goofy-foot. It was shallow on the inside break with lava rocks just below the surface, so I was careful not to fall. On one of the larger, steeper waves that I took off on, my fin side-skipped on the face, as I rode parallel with the wave. I wasn't phased, and I got a great ride. Watching, was the only local Hawaiian surfer who was out at that time of the morning. He was sun-bronzed, with orange, sun-bleached hair. He told my boyfriend that I was a good surfer, and that I was very brave. I guess if I had fallen that week, I would have been more fearful.
The biggest waves I've ridden have been 8-10 feet in Kauai, Cabo, and Del Mar, California . That's the maximum for me. If they're any bigger, I really get pounded, since I don't duck-dive. Then, it's not fun anymore. Today, I prefer smaller surf; 4-6' maximum.
I've surfed Maui, Kauai, Oahu, Cabo San Lucas (every year), Puerto Vallarta , Zihuatanejo, and Costa Rica from Pavones to the south, to the Nicaraguan border to the north. Future trips will include Fiji and Tahiti . I would like to go back to Zihuatanejo. But, I'm nervous about that, since there were 3 shark attacks 6 months after I was there. Now, the poisonous sea snakes that I was concerned about don't seem so bad!
A Memorial/Monument was built in 2008 at Tourmaline Canyon Surfing Park . The Monument is a tribute to surfers of the past, present, and future, and to their families and friends. It was funded completely by the sale of granite bricks to the public. The inscribed bricks were laid at the base of the Monument. My boyfriend, John Pruitt, was on the committee responsible for making the Monument a reality. He honored me with a brick which reads, "Barbara Bordieri, Gidget of San Diego, Surfer-1961."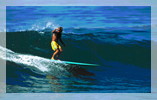 Honorees - Past & Present
William " Hadji" Hein
Emil Sigler
Doc Paskowitz
Woody Brown
Don Okey
Skeeter Malcolm
Norm Polonski
Ralph Dawson
Doc Blankenship
Bo Smith
"Captain" Dan O'Connell
Bud Caldwell
Billie "Goldie" Goldsmith
Ralph Barber
Joe Gann
Robert "Black mac" Mc Clendon
Holly "Papa Smurf" Jones
Ron St. John
Barbara Bordieri-Hoffman
Kanakas Surf Club
WindanSea Surf Club
Pacific Beach Surf Club
Tourmaline Tailgater's Surfing Assoc